Summer time, that means barbecue time! As the true bon vivants we are, we like to put our barbecue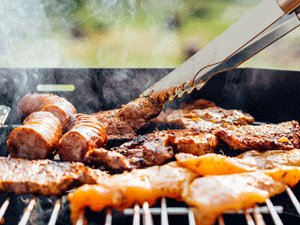 in our backyard or even on the street so we can enjoy the sun together with the neighborhood. But that can also turn out differently.
Barbecues are by definition sources of high temperatures and fire, and that can go wrong sometimes. Especially in combination with (liquid) lighters, there is an increased risk of burning barbecues and bursts of flames, as the news reports unfortunately confirm year after year. Correct fire prevention, indoors and outdoors, is essential.
Brandbeveiligingshop suggests the following items to make sure your barbecue party runs smoothly and safely.
1 portable aerosol fire extinguisher: these small portable fire extinguishers work on the basis of aerosol, a brand new extinguishing agent. Aerosol is a mixture of dust particles and liquid droplets that quickly nip a starting fire in the bud. In addition, the bottle is not put under pressure and is easy to store away during the winter time.
1 fire blanket 1m x 1m EN1869 approved: if oil-based foods or fire accelerators/firelighters are used, a burst of flame may appear. A fire blanket covering the barbecue is essential to get those flames under control quickly.
1 first aid kit: Immediate action is essential in case of burns. If there are any minor injuries, this first aid kit can solve small problems.